Search academic resources in corona times
For news from funders, information on PHD defense and other research Q&A during the corona pandemic, check the overview on the research pages on the university's portal.
Find academic literature
The library is still there, though remotely, to support you. Check the services and due dates on loans and don't hesitate to contact us with your questions.
As always, scholarly information accessible for Ghent University, is available through lib.ugent.be.
Many open access content is included, such as the Directory of Open Access Books DOAB and the Directory of Open Access Journals DOAJ. The university library team is constantly following all initiatives from publishers to provide temporary access to (parts of) their platforms and content . Whenever possible, these temporary accessible titles are added to lib.ugent.be. You find a list of temporary added resources further down the page, as well as a list of resources in the process of being added. Some resources, however, are not made available for Ghent University. The list unavailable resources will keep track of those resources.
If you want to search on article level, use Google scholar. This Google service only crawls academic information, including publications of some academic publishers. If you are connected to the university network, you automatically have access to online content we are licensed to.
There's a lot of academic open access information out there. A starting point is OpenAIRE. This service offers a broad view on open access publications and data.
Freely available coronavirus content
A lot of scientific work is already available in open access. Look at these resources:
BioRxiv: is a free online archive and distribution service for unpublished preprints in the life sciences
MedRxiv is a free online archive and distribution server for complete but unpublished manuscripts (preprints) in the medical, clinical, and related health sciences.
COVID-19 Open Research Dataset (CORD-19),

a free resource of over 45,000 scholarly articles, including over 33,000 with full text, about COVID-19 and the coronavirus family of viruses for use by the global research community.

EMBL-EBI has set up the COVID-19 Portal, which will bring together relevant datasets submitted to EMBL-EBI and other major centres for biomedical data.
Publishers make coronavirus (COVID-19) content freely available and reusable.
The funder Wellcome provides a list of journals and publishers who have agreed to make their content accessible and reusable
In collaboration with the Association of Research Libraries (ARL), BioOne shares relevant content, related to coronavirus, from their publishing partners via open access through 2020.
Brill has opened up books and articles on topics such as public health, distance learning, crisis research. If any new related content is published with us, it will be added to this collection.
Edward Elgar publishing Social Science and Legal Research on Pandemics
KCGG (Knowledge Centre for health Ghent) provides access to journal articles, datasets and other resources on COVID-19 and related issues for researchers
List temporary resources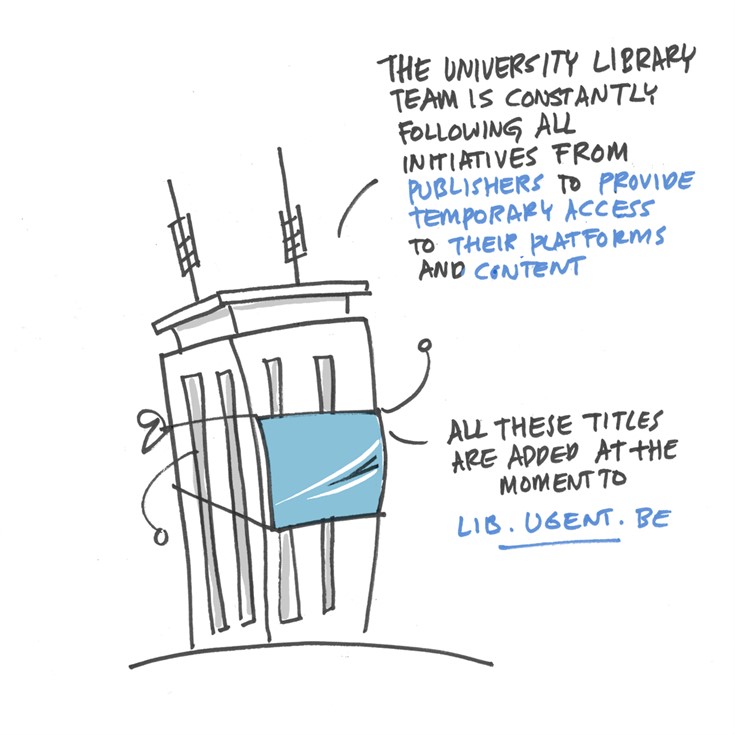 This is a list of resources that were not yet available in lib.ugent.be and are now only temporarily available, until publishers return to business as usual.
Annual Reviews (journals) - ended on June 15th
Annual Reviews removes access control in response to COVID-19 pandemic to all their journals through Thursday April 30, 2020. On that date, theywill assess the need to extend this policy.
Artstor
Free access until December 31st
Berghahn - ended on June 30th
Berghahn provides access to all journals

Bloomsbury Digital Resources - ended on June 30th
Resources from Bloomsbury Digital Resources are now available through the end of May 2020, at no cost or obligation and on an unlimited access basis.
Brepols online ebooks - ended on May 31th
Brepols provides access to e-books as of 2017.
Cambridge University Press (books) - ended on June 30th
Cambridge University Press is making extra content free to access online during the coronavirus outbreak:
De Gruyter and their University Press partners - ended on July 31st
Access to allmost 70.000 books on the new De Gruyter platform
Duke University press: book & journal content - ended on June 25th
Duke University Press provides 90 days of complimentary electronic access to their book and journal content
Ebsco - ended on July 31st
EBSCO offers access to a collection of e-books (titles are included in lib.ugent.be), Ebsco Academic Search Ultimate and Ebscohost RILM Abstracts of Music Literature with Full Text
EDP Sciences
EDP Sciences decided to open their journals' content from 2018-2020 so it is freely available for all to read
Erudit journals
Temporary removal of 12-month moving pay wall for 40+ journals
Elgar - ended on June 30th
Elgar offers electronic access to e-holdings and e-books. titles are included in lib.ugent.be.
Elsevier Textbooks
ScienceDirect Textbooks: The 256 textbooks currently on ScienceDirect will be automatically entitled to all active ScienceDirect customers. Access the title list here.
Elsevier ScienceDirect ebooks
+35.000 titles included in lib.ugent.be
Gale reference Complete - ended on June 30th
Access to Gale reference complete until end of June 2020
GeoScienceWorld - ended on June 30th
To help support online learning and remote research for the remainder of the semester, some GeoScienceWorld book publishers have extended public access to all of their ebooks through June 30, 2020
Guilford Journals - ended July 31st

Guilford has opened access and made all our journal content free, from any location until at least July 31.
HeinOnline databases - ended on June 10th
Trial access to additional sources on the already available HeinOnline databases.
Jove Education (video content) - ended June 15th
JoVE will provide all of their Education video content free to use in STEM teaching efforts until June 15th. Log in with your UGent account.

Jstor
Expanded access to JSTOR has been provisioned for all eligible programs. As a reminder, the list of content JSTOR is providing access to in order to support schools impacted by COVID-19 is here: https://about.jstor.org/covid19/
Microbiology Society
Temporary free access to all Microbiology Society journal content
MIT Press Direct - Ebooks (+ 2800 books) - ended on June 30th
Free access to the MIT Press Direct collection of eBooks through the end of May 2020.
National Emergency Library
National Emergency Library, a collection of books that supports emergency remote teaching, research activities, independent scholarship, and intellectual stimulation while universities, schools, training centers, and libraries are closed.
Oxford University Press - ended on May 30th
Oxford University Press supports students, academics, and lecturers with a range of free online resources.
Project Muse - ended on June 30th
In response to the challenges created by the global public health crisis of COVID-19, Project MUSE is pleased to support its participating publishers in making scholarly content temporarily available for free on our platform.
ProQuest - ended on July 7th
Proquest opens ebook academic for the next three months (+180.000 ebooks)
Proquest Dissertations and Thesis Gobal & Periodicals Archive Online - ended on July 21st
ProQuest Dissertation & Theses Global is acurated collection of 5 million dissertations and theses from (2.5 million full-text) from of universities all over the world. PAO provides access to the archives of +800 journal titles.
Sage - ended on June 24th
Springer Nature
Springer Nature is launching a global program to support learning and teaching at higher education institutions worldwide. They will be able to access more than 500 key textbooks across Springer Nature's eBook subject collections for free.
University of California Press (journals) - ended on August 31st
In recognition of the impact of Covid-19 on campus instruction and the rise of unplanned distance learning, University of California Press is pleased to make all of their online journals content free to all through June 2020
University of Michigan Press (EBC) (+1000 e-books) - ended on September 15th
To support remote teaching and research during the COVID-19 global health event, titles in this collection are free-to-read until April 30, 2020.
Vandenhoeck & Ruprecht ebook - ended on April 19th
Vandenhoeck & Ruprecht Verlage sichert Buchhandel und Bibliotheken Unterstützung zu
World Scientific Publishing - ended on June 30th
All World Scientific journal content published from 2001 until June 30, 2020
List resources in process
IGI: FREE access to the complete IGI platform
Ohio State University Press decided to make all its catalog available in open access in response to the pandemic
RIPM databases
Unavailable resources
Some resources are not made available for Ghent University, for example because only students in the USA can access them for free.
RedShelf no-cost eBook offer is

not

applicable for Ghent University
More tips
Last modified Nov. 16, 2020, 3:20 p.m.