Journal: how to find a print or e-journal or newspaper
You can find the journals and newspapers UGent libraries have access to via the Ghent University library catalogue lib.ugent.be.
Flemish newspapers and magazines
You can find popular Flemish newspapers and magazines in the database GoPress.
Search for 'GoPress' in the catalogue and click 'View online'
Make an account using your UGent e-mailaddress
Now you can access GoPress anytime, anywhere, even outside of the UGent-network
Note: GoPress has an embargo of 2 days. Today's and yesterday's nespapers and magazines are therefore not yet available.
Magazines and newspapers in other languages and academic journals
Our catalogue only lists the periodicals (journals, magazines, newspapers) we have access to. It does not contain all the articles in those periodicals. To find the right bibliographical reference, you should consult a database first.
Search for (part of) the title of the periodical
Narrow down your search by selecting 'periodical' under 'Type' in the left-hand column
The periodical is available online: click on 'View online'. If you are browsing within the UGent network, you can now consult the periodical.

The periodical is available in print: click on 'Services' to see what the options are. If you found the article in a database, you can click the SFX-button to check if it is available at UGent in print (or online).

If the periodical is on open shelves, you can simply take it off the shelf in the library and read or scan as you prefer
If the periodical is in the depot, you can either request a scanned article (video)
Or request a consultation of one or more volumes

To cite a periodical, click the tab 'Citing'

Copy-paste one of the three most common citation styles in your text editor (e.g. Word, Writer, ...)
Or download the RIS file (e.g. for EndNote, Zotero, ...)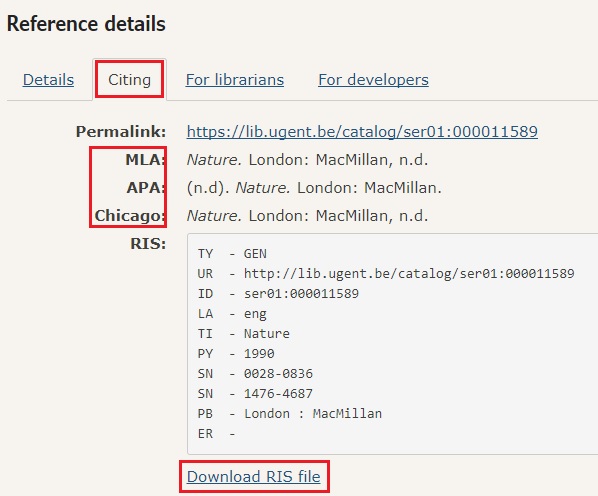 For more information and a video on how to request a scanned article, check the page Journals & Articles.
For more general information, watch this video about searching in our catalogue.
More tips
Translated tip
Last modified Aug. 2, 2019, 3:17 p.m.